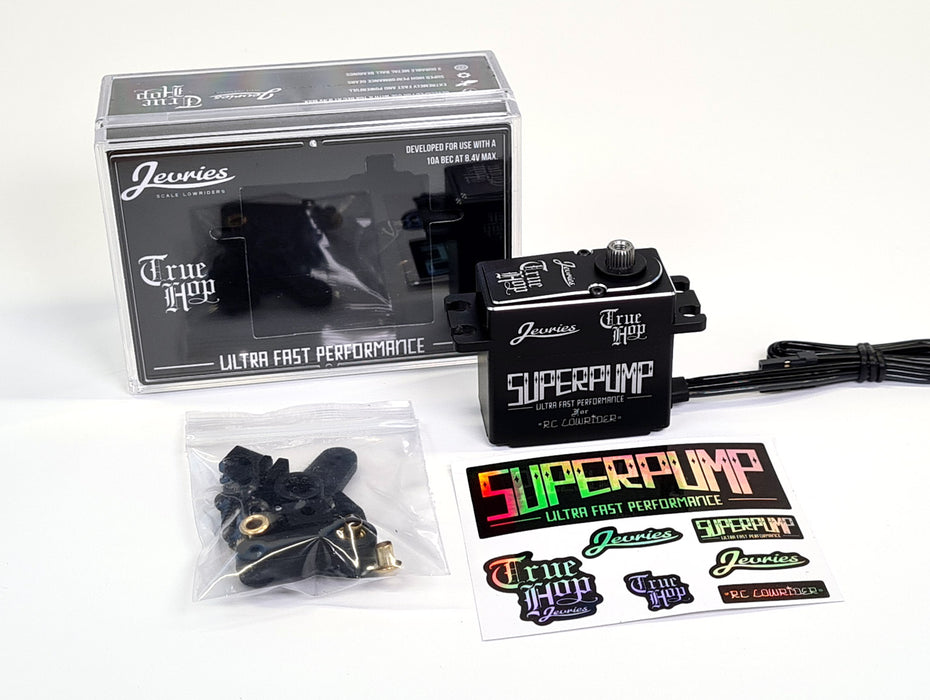 True Hop SUPER PUMP servo developed for 10A BEC at 8.4V
Sold out
Original price
$119.99
-
Original price
$119.99
The True Hop Super Pump servo is specially developed to give your car some extra hopping power using a 10A BEC set at max. 8.4V.

Powered by AGFRC!



I do NOT recommend using these servo's on the rear of your RC Lowrider when there's a lot of weight in the trunk. These servo's are designed for crazy fast action and not for lifting a lot of weight in combination with a long servo horn. Please use the dedicated GatePumps for that prupose.

Specs:
Voltage: 7.4V- 8.4V Do not exceed!
Gears: Super Steel Gears
Bearing: 3 HQ Ball Bearings
Operating Temperature: -15°C - +70°C
Pulse / Frequency: 1520uS/ 333Hz
Operating Speed:0.044sec/60° @ 7.4V 0.039sec/60° @ 8.4V
Static Holding Torque: 17.5 kg-cm (243 oz-in) @ 7.4V 19.5 kg-cm (271 oz-in) @ 8.4V
Size: 40*20*37.2mm 1.57*78*1.46inch
Motor Type: Brushless
Spline: 25T/ Dead Band Width 2uSec
For Best results:
- Use a good set of stiff shocks to make sure the car doesn't bottom out as easy.
- Mount the servo with servo horn facing forward.
- Make the first hole on the servo horn large enough so that it fits the ball link.
- Use a 5.5mm hole to hole servo linkage.
- Plug the servo in the receiver with the front switch down.
- Set the endpoints to 50%, mount the horn and adjust untill there's no humming noise.
NOTE:
- These super fast servo's are for experienced users only! 
- Always adjust the endpionts to make sure there's no binding (humming noise).
- More speed means more heat! Let these servo's cool down in between hopping sessions.

WARRANTY DOES NOT COVER BURNED OUT SERVOS!!
BURNED OUT SERVOS ARE CAUSED BY INCORRECT ENDPOINTS SETTINGS AND/OR THE SERVO HORN GETTING STUCK BY SOMETHING LIKE A LOSE BOLT OR WIRING.