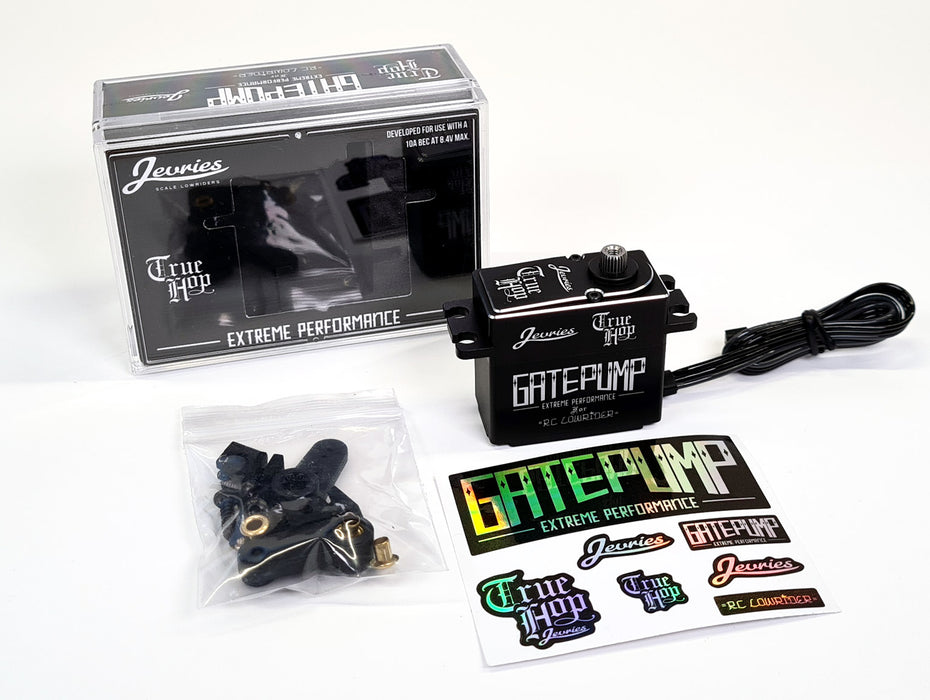 True Hop GATE PUMP servo developed for 10A BEC at 8.4V
Sold out
Original price
$119.00
-
Original price
$119.00
The True Hop Gate Pump servo is specially developed to work on the rear of your RC Lowrider car to make it pop and bounce! Use with a 10A (20a) BEC set at max. 8.4V.

NOW 180° throw with Radio set at 120%-120%!
Powered by AGFRC!

Fast and Strong!

Specs:
Voltage: 7.4V- 8.4V Do not exceed!
Gears: Super Steel Gears
Bearing: 3 HQ Ball Bearings
Operating Temperature: -15°C - +70°C
Pulse / Frequency: 1520uS/ 333Hz
Operating Speed: 0.053sec/60° @ 7.4V 0.043sec/60° @ 8.4V 
Static Holding Torque: 21.0 kg-cm (292 oz-in) @ 7.4V 24.0 kg-cm (333 oz-in) @ 8.4V
Size: 40*20*37.2mm 1.57*78*1.46inch
Motor Type: Brushless
Spline: 25T/ Dead Band Width 2uSec

For Best results:
- To make the rear bounce use stiff shocks depending on the weight you use in the trunk.
- Use longer servo horns and shorter shocks to make the car lay low while still be able to lock up high.
- Always adjust endpoints!! Make sure there's no binding (humming noise).


NOTE:
- These Gate Pump servo's are for experienced users only! 
- Always adjust the endpionts to make sure there's no binding (humming noise).
- Let these servo's cool down in between sessions.

WARRANTY DOES NOT COVER BURNED OUT SERVOS!!
BURNED OUT SERVOS ARE CAUSED BY INCORRECT ENDPOINTS SETTINGS AND/OR THE SERVO HORN GETTING STUCK BY SOMETHING LIKE A LOSE BOLT OR WIRING.